Click here if you are having trouble viewing this message.

Tuesday, Nov. 23, 2021
Today's headlines:

COVID-19 booster dose available anyone 18 and older
On Friday, Nov. 19, the Centers for Disease Control and Prevention's Advisory Committee on Immunization Practices approved COVID-19 booster shoots to include all adults 18 and older who received a primary Moderna or Pfizer-BioNTech COVID-19 vaccine series. Effective immediately, Iowa health care providers may begin administering a single booster dose to adults 18 and older.
The Food and Drug Administration updated the emergency-use authorizations for both the Modern and Pfizer-BioNTech COVID-19 vaccines to include booster shots for all adults, but said the priority should continue to be the vaccination of unvaccinated people.
Read more HERE.
IHA Today Thanksgiving holiday schedule
This week, while our IHA staff takes the time to reflect on our gratitude to our members and health care workers, there will be no Thursday or Saturday editions of IHA Today. Thank you for your continued work caring for Iowans.
Thank you to the 2021 Iowa Hospital Heroes
IHA and Iowa hospitals are grateful to our hospital staff who ensure Iowa's hospitals provide quality care day in and day out. Eleven heroes were recognized at IHA's 2021 Virtual Annual Meeting, and each will be highlighted in IHA Today. This issue features Sonia Sather, MD, a hospitalist from Spencer Hospital in Spencer. Thank you to all the 2021 heroes and hospital staff for your work and compassion.
If you have someone you want to nominate as a hospital hero, take note for next year's recognition at the 2022 IHA Annual Meeting, Oct. 4-6. Click HERE to submit nominations by Friday, April 29, 2022. Email Craig Borchard at IHA with questions.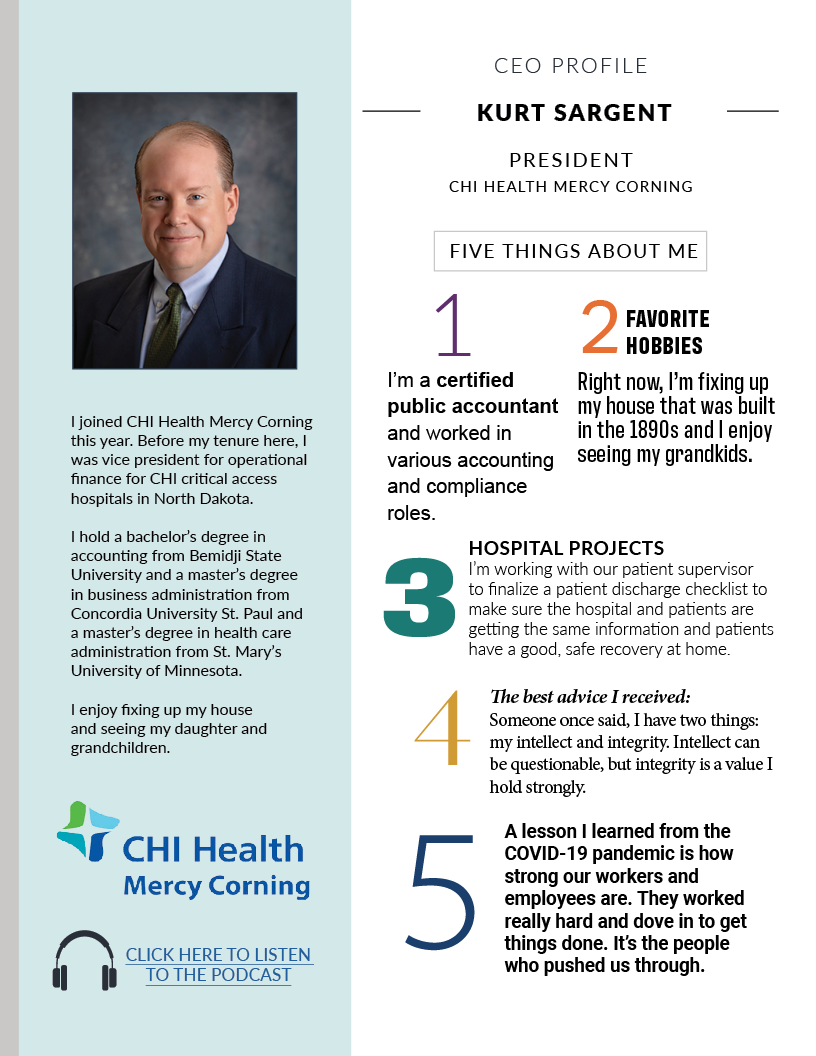 Missed a previous CEO podcast? Click the links below to learn more about Iowa's newest hospital leaders.
Equipment upgrades completed for health care network
The Iowa Communications Network (ICN) recently engineered and implemented site upgrades to 191 locations of either physical hardware or virtual connections of the Iowa Rural Health Telecommunications Program.
In 2018, the network started to replace aging network equipment to enhance redundancy and increase bandwidth. The ICN upgraded 44 core/aggregation sites and approximately 90 hospitals and clinics. During the three-year project, ICN installed new switches and migrated broadband services hospital by hospital to the new system designed with auto-recovery capabilities. If components fail or fiber is damaged, network traffic automatically reroutes.
The Iowa Rural Health Telecommunications Program is a health care network managed by IHA and is a joint effort among 85 Iowa hospitals, two South Dakota hospitals and one Nebraska hospital.
Register to attend Post-pandemic Priorities for Rural Health System webinar
Rural health care leaders and hospital board trustees will have an opportunity to discuss both new market realities and new forms of competition during the Post-pandemic Priorities for Rural Health Systems webinar scheduled from 10-11 a.m. Tuesday, Dec. 14.
Threats to rural health systems will be identified along with a clear plan to leverage market position while minimizing external threats.
Participants will:
Discuss creating a strategic plan to address market change.

Identify new competitive forces and their impact on traditional health care providers.

Outline specific post-pandemic plans for performance improvement.
To register, click HERE.
Read more HERE.
National news
Click HERE to read daily NewsStand postings.
Upcoming events
Can't Pour From an Empty Cup: The Crisis in Nursing and Pandemic Care

: Tuesday, Nov. 30
Governance and Accountability for the Rising Costs of Health Care Information Technology: Thursday, Dec. 2

Post-pandemic Priorities for Rural Health Systems: Tuesday, Dec. 14

Nurse Manager Leadership Workshop: Wednesday, Jan. 19, 2022 - Tuesday, March 15, 2022

Advanced Leadership Academy: Wednesday, March 2, 2022 - Tuesday, Sept. 20, 2022
Hospital jobs site connects hospitals with qualified candidates
Are you looking for qualified health care professionals for your Iowa hospital? HospitalCareers.com can help. This website connects thousands of nurses, providers and other hospital jobseekers with Iowa hospitals each year and is a main resource for jobseekers looking for work in health care.

100 EAST GRAND, SUITE 100, DES MOINES, IA 50309-1835  |  P  515.288.1955    F  515.283.9366  |  WWW.IHAONLINE.ORG
Click here to unsubscribe or to change your Subscription Preferences.